Media character and financial specialist Bonang Matheba has clarified that she isn't here for all the savages that have attempted to spoil her otherwise good mood with rude "she doesn't claim House of BNG" comments.
The media character as of late praised the most recent expansion to her champopo range, the sumptuous, canned House of BNG Nectar at a private lunch get-together with media and industry mates in Lonehill, north of Johannesburg.
Since dispatching her House of BNG champopo two years prior, Bonang has been raking in huge profits in the liquor business, likewise getting general recognition and some analysis from peeps. 
Despite her most recent cash move, Twitter savages again made Queen B pattern for quite a long time as they discussed the responsibility for mixed drink organization with remarks like "she's simply the face" and doesn't generally "own" the champagne brand.
Another tweep made his perspectives a stride further and said that there was a contrast between a "overseer of the organization" and "responsibility for organization". He even asked B* to give him her offer testament.
While the disdain was pretty clear, Bonang recognized the tweet and applauded back, saying her haters had totally lost their psyches.
Bonang has been relaxing in the entirety of her prosperity since the dispatch of "SA's first obvious shining wine in a can" and she made a point not to let anybody remove her satisfaction.
During the huge uncover of her new expansion bev, Bonang stated, "I'm so amped up for The House of BNG's development as a brand and in its advancement of new items.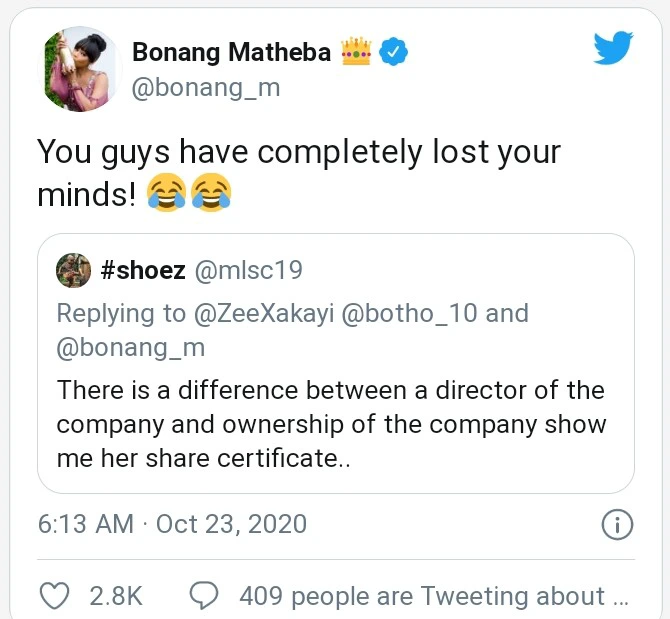 "BNG Nectar is for such a way of life! It's ideal for experience and in a hurry festivities and brings a dash of extravagance and festivity to any event."