In South African traditions it is a taboo for a husband not to mourn for his wife or vice versa. It is forbidden and could lead to dangerous effects according to the indigenous traditions. However, in the recent days things have been changed, people do as they please and some says it is a belief but has no effects unless you believe in it, it will affects you. Today, those taboos are regarded as normal and usual as they keep on happening. Here it is as we are learning the truth about the Queen of Kwaito's husband who didn't bury his wife.
The Late Nomasonto Maswanganyi stage name "Mshoza's" husband revealed a shocking truth about himself. Prince and Mshoza were in love and planning a future together. However, only friends and family members who attended Mshoza's funeral service except her loved one, the man she was married to. Mshoza was disrespected by the man she was supposed to seal their marriage with a second celebration this month. Her Prince of her heart didn't pay his last respect and according to the traditions that is a taboo.
Prince revealed that Mshoza and him seemed to have troubles in paradise as they were about to reconcile before she died and the family disagreed. In that case, they were taking a break from one another over past few months. Prince told Daily Sun that he and Mshoza loved each other very much and also planned to have their wedding this year December but all those dreams will never come true.
Prince, said that he was going to pay her bride's price this year but the lockdown had intervened. The lockdown had snatched Mshoza's happiness. Prince stated that he met Mshoza at friend's place. He claimed that Mshoza confessed that she truly loved him and he was the only person she ever loved and wanted to marry him. Prince and Mshoza were leaving together along with the Queen of Kwaito's children at Dawn Park in Ekurhuleni after discovering that Mshoza had money problems.
Prince stated that like any other couples him and Mshoza had differences but that doesn't mean they were going to separate. However, when she fell sick her sisters Thandi and Seipati got a chance to come and take her back to Witbank. The sisters took her out of Prince's awareness and they hid her from him until she dies. Prince believed that Mshoza was going to be fine if she was been taken care of other people than her sisters.
Daily Sun reported that Nomasonto did not have good relationship with her sisters and didn't want to die a Maswanganyi. As she was sick, Thandi her sister was very abusive and could ask her that as she is sick where are her fans and her fame?
Those were harsh words from the sister. Anyone wouldn't want to be treated in that way, whether alive or not. Prince continue to say that, he would try to reach her loved one but he couldn't reach her as they would tell him that Mshoza doesn't want to talk to him, Prince shouldn't worry about his health. Prince said that he wasn't told that Mshoza died and he found out through social media.
The pain her man is going through it is just too much.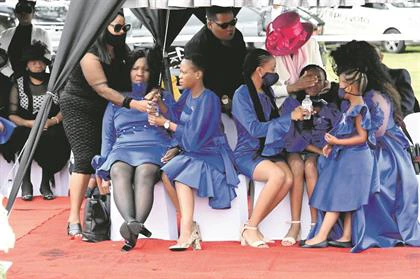 Image: Family at Mshoza's funeral service
Prince mentioned that the sisters even took everything him and Mshoza owned without informing him. However, Prince was left with no choice but to report them. The family didn't even inform him about her death and did not regard him as her husband. Prince said that he opened a case of theft and assault charges.
The matter is now on SAPS Team's hand.
Source: Daily Sun