After drawing all attention to herself by posting the video on social media platforms when she was confronting her man Katlego Maboe on allegations that he infected her with Sexually Transmitted Infections, Monique Muller have now taken to her Twitter handle to ask the people to give her space.
Monique took to her Twitter handle Monique Muller @MoniqueMuller__ to request people to allow her space to handle and deal with what she labelled painful issue.
"Please give me and my family privacy while we deal with this painful issue," she wrote on her Twitter handle.
A video surfaced on social media where she was confronting the father of her child Katlego Maboe about the sexually transmitted infections which he infected her with as she demanded to know who he slept with and contracted the disease.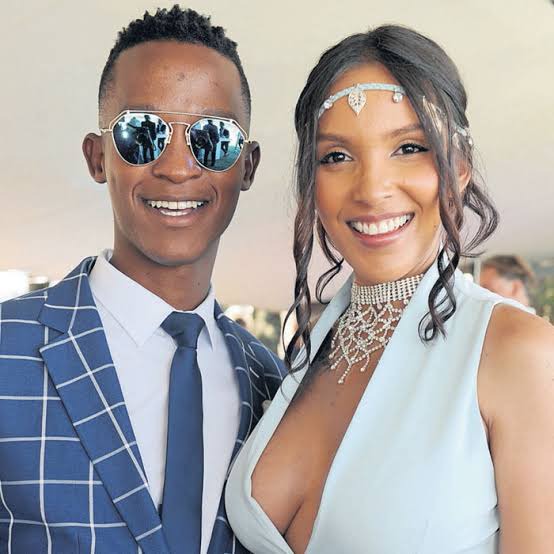 Maboe the Outsurance adverts presenter have since admitted to have been unfaithful to his partner and regrets everything he did.
Tweeps have taken an opportunity to tell her that she could have handled the matter differently.
You should have kept your family affairs private. You shout in public then ask for privacy Thinking faceThinking faceFace with rolling eyes
Lesson…next time, keep the phone off while resolving sensitive issues. Media will destroy you, always interested in people's downfall.
Clementine [email protected]_Maloka
Like really? I'm not saying what he did was right… But this was very stupid of you to expose him to the public, now suddenly its a private matter…. Girl kahle bo! We're involved nowFace with rolling eyesFace with rolling eyes.
[email protected]_Nkwana
Exactly… those are my same sentiments
You don't stunt such and then jiggy jiggy you want privacy, you invited the whole of SA…. we are here now.
Well Monique, you chose to put your private matter in the public eye, you can't expect the public to give you privacy after that.
Caron [email protected]
Was just about to say… Didn't share the info with the world first? Now asking for privacy???
Miss Independent HibiscusNail [email protected]
You should've handled this issue privately… You did not think about your child in the process your aim was to get back at Katlego Mrs "wife material", next thing you'll be screaming child maintenance this! child maintenance that! knowing very well you cost Katlego his job(s).