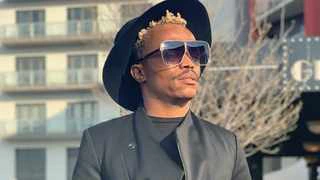 omizi Mhlongo-Motaung continue showing how humane he is. He just recently posted a story on his Instagram page of a lady who was stranded on the side of the road in Johannesburg. He then went to help the woman and his good act had his fans admiring him even more.
The reality TV star and chef shared this story on his Instagram where he also taught his followers about the art of giving.
He came across a woman, who is name is Melissa on his way to gym. She seemed stranded on a busy road on William Nicole. The cars were passing by and not offering her any help, but Somizi took a U-turn and asked if she needed any help. She then told him that her phone's battery died this could not contact her husband.
He said on his post he knows we live in a world full of anger, rage and danger…We don't trust anything even if it looks innocent. Sometimes, if not most times we see people in need of help by the roadside and we wonder if we should help or not…and he found himself worrying if they're gonna be okay, especially if its a woman.
Somizi offered his help and the woman couldn't recognize him as he wearing a cap, mask and sunglasses. So she had no idea who he was.
Eventually the husband called to say he is 5 minutes away so the woman said he can leave and Somizi gave her his numbers in case she needs help because he is just across the road. He said that he didn't mind waiting with her until her husband came and thus skip the gym but Melissa told him to leave.
The woman should have realized after he had left who he was when she saw his display picture on WhatsApp so he thought.
He said making this world a better place one place at a time…is not that bad.
He tried to teach people that despite the dangers we face every single day, there are some people left who genuinely need help.