Of late celebs have peddled false news on social media and they have gone scotfree without being punished. In the wake of these daring facts, Fikile Mbalula is not having any of it and wants Somizi behind bars.
Well, transport minister Fikile Mbalula early last year opened a case against Idol SA judge Somizi. The case was opened at the Sandton police station. However, Mbalula wants Somizi to behind bars for allegedly breaching disaster management regulations related to "information dissemination and misinformation".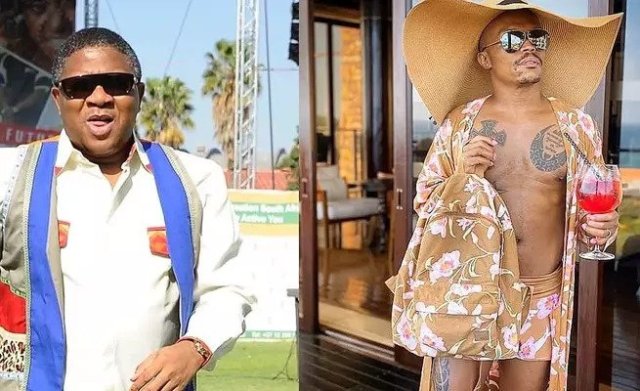 The occurred early last year. Mbalula has it that few hours before the President had his family meeting also known as Covid-19 updates Somizi made an announcement in regards to Covid and pinned Mbalula as his source of information.
Somizi informed Mzansi that there was an extension of the Lockdown till the end of April. In the wake of the announcement, Mhlongo took it to Instagram that Mbalula had given him a heads-up about the extension.
I have noted Mr Mhlongo's apology however I do not view his utterances as a mere joke, the country is going through a serious disaster management period and any misinformation, irregular or unauthorized information being published is both unlawful and not assisting in our cause to manage public affairs carefully," Minister Mbalula said.
However, Dineo Ranaka has been implicated in the nasty drama though as a witness. Well, it was established that Somizi joined an online conversation that Dineo was part of and made the announcement.
Dineo Ranaka has since been summoned by the courts as a witness. Well, little is known as of yet about the actual trial dates as Somizi lawyers are engaging prosecutors on the merits of the court seasons.According to an inside source, Dineo Ranaka was honest. The overwhelming evidence before the courts might send Somizi behind bars unless otherwise. The source has it that.
Ranaka told prosecutors that she was on Instagram Live when Mhlongo chimed in uninvited. Despite being uninvited made the announcement. She said Mhlongo only announced later that his remarks about Mbalula and the lockdown were a bad joke and later apologized to the politician.
"That is the problem because he only said he was joking later. So, Dineo couldn't lie under oath because she could be charged with perjury. She had to tell the truth," said the source.
However, the apology was not enough for Mbalula, who retaliated by opening a case against him. Somizi handed himself at the Sandton police station in April last year and was later released on R1000 bail. He is expected back in court soon.